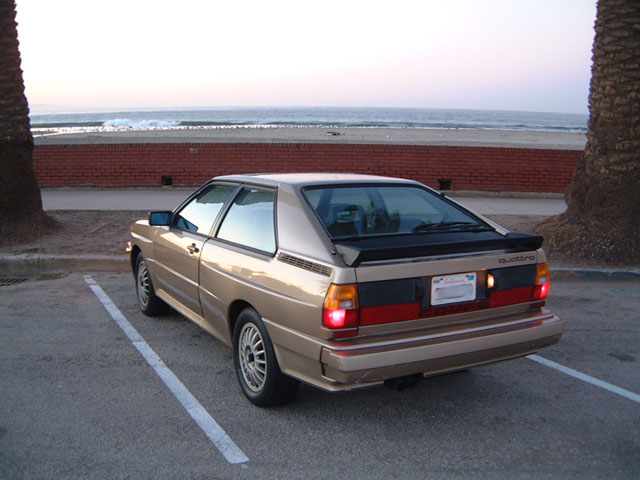 That's my 1983 Audi quattro. What a blast to drive!
2003 urquattro Preservation Celebration California event pics
Saturday after Thanksgiving Q list breakfast Happened! Pics here.
Urq clutch/cracked firewall repair.

3 second video w/ 16 bit stereo sound of an IMSA 90, complete with blowoff squeal and flames. Worth the 4.5 mb download if you have the bandwidth
Pics from Sears Point ALMS July 22, 2001
Pics from ALMS demo in San Jose
i5.wav (650kb) was recorded at Laguna MH99. (The sound from the clip above) Give it a listen!
Look here for a UFO page.
Look here for pictures of the strut bearings I installed in the 4kq. I show ur vs "regular".
Audifans quattro list archives or urq list archives
Go here for the 1997 Bay Area Q-list get together.
And pics of the 200 in snow here.
External Links. Vendor Links
"I hope that I will soon forget the Audi Quattro. Until I do, I shall continue to worship that bitch goddess. Success at the expense of friends, family, honesty and decency - anything to be in a position to have one. The Quattro is evil, an insidious witch in the guise of state-of-the-art engineering, a circe who commands your obedience every waking moment and a succubus who haunts every dream. She's the seductress who recreates That First Time all over again, who snips all your tethers to innocence and changes your life forever." - Four Wheeler Magazine, August 1982